Description:
Softwares such as UG-NX 8.5, Topsolid, Auto-Cad, Catia are used in our designing department.
For simulation-Danyform & Autoform to insure the the feasibility of every process.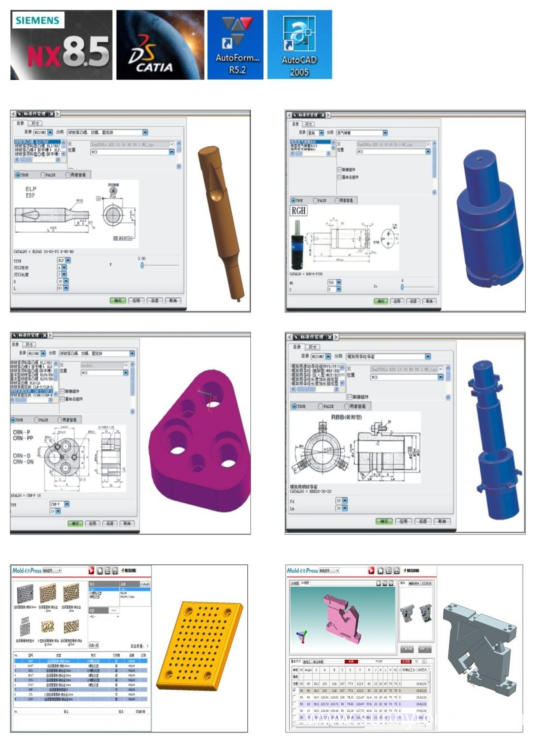 Basic information:
1. Brand Name: Sunnytool.
2. Model No.: D100232
3. Application: Car.
4.Certificate: ISO 9001:2008.
5. Country of origin: China Mainland.
6. End customer: Land-Rover, BMW, SKODA, Ford, Jaguar, Renault, Chrysler and so on.
Specification:
1. Material: Stainless Steel and Aluminum(hard steel or soft steel according to component function).
2. Technics: stamp die
3. Manufacturing Technology: Automation Technology.
4. Cavity: Stamping Tool 1 part out or 2 same parts out or 2 symmetric parts out per stroke.
5. Size: According to the tool design of the part. (up to 4400 mm)
6. Weight: Ranging from 800 kg to 15000 kg
7. Processing Method: Punching and Shearing Mould.
8. Process Combination: Progressive Die.
9. Parts Detection Method: Measurement of Three Axis NC, CMM.
10. Required Tonnage: Ranging from 125 t to 800 t.
11. Package Method: Fumigated Wooden Case.
12. Transportation: Stamping tool send by Ocean or Air required by our customers.
Advantages:
1. High efficiency and time-saving for progressive tool.
2. Lower labor force expense.
3. Stable Stamping Part quality.
4. Save material and reduce scrap rate, even no scrap.
5. Long life and high strength.
6. Can produce complicated shape part.
7. Safety, operator not necessary to reach inside the tool with feeders.
8. Easy to automation.
Application automotive system:
1. Car body, metal stampings are used for A pillar, B pillar, C pillar, roof;
2. Brake system, metal stampings are used for anti-lock brake systems (ABS), brake module, covers and caps;
3. Cooling system, metal stampings are used for thermostats, fittings, connectors, housings, shells and flanges;
4. Lighting system, metal stampings are used for bayonet sockets, reflectors and shields.
5. Motor system, metal stampings are used for motor housings and armatures.
6. Sensor system, metal stampings are used for sensor housings and core tubes.
For more information about our company, you could visit our website.
| | |
| --- | --- |
| Brand Name | Sunnytool |
| Model No. | D100232 |
| Application | Car |
| Certificate | ISO 9001:2008 |
| Country of origin | China Mainland |
| End customer | Land-Rover, BMW, SKODA, Ford, Jaguar, Renault, Chrysler and so on |
| Material | Stainless Steel and Aluminum(hard steel or soft steel) |
| Technics | |
| Manufacturing Technology | Automation Technology |
| Cavity | Stamping tool 1 part out or 2 same parts out or 2 symmetric parts out per stroke |
| Size | According to the tool design of the part. (up to 4400 mm) |
| Weight | Ranging from 800 kg to 15000 kg |
| Processing Method | Punching and Shearing Mould |
| Parts Detection Method | Measurement of Three Axis NC, CMM |
| Required Tonnage | Ranging from 125 t to 800 t |
| Package Method | Fumigated Wooden Case |
| Transportation | Stamping tool send by Ocean or Air required by our customers |